NIBBLER JIG SAW ATTACHMENT FOR DRILLS FOR CUTTING SHEET METALS / WOOD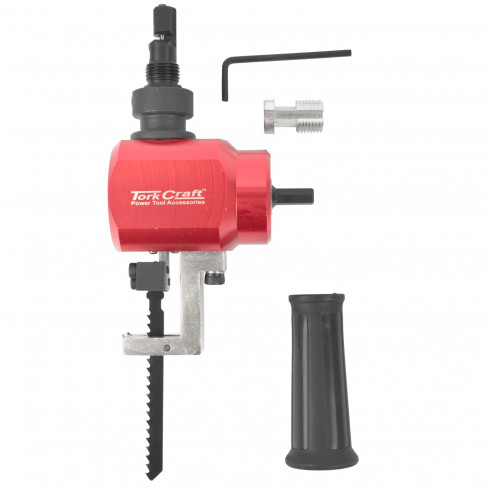 TorkCraft - Sheet Metal Cutter & Jig Saw
For Drill
Carded Pack:  Qty 1
Application:
Sheet metal cutters allows for cutting straight or irregular shapes into sheet metal stainless steel and other soft materials with a standard electric drilling machine, cordless drill or pneumatic drill.
Fits any electric drill or cordless drill.
Different cutting shapes achievable - straight / curve / 360°
Recommended cutting speed 3000RPM
For sheet metal cutting: Sheet Metal 1.8mm MAX. / Stainless steel 1.2mm MAX,
For other material cutting: Aluminium 2.0mm MAX. / Plastic or Plywood 2.0mm MAX.
Working Safe:
Ensure the work piece is clamped and secured before cutting.
Fit any electric drill or cordless drill to the 1/4' hex drive shaft.
Do not cut a thicker sheet of material than stipulated.
Never start cutting before the tool is running at the set speed.
Keep a vertical angle between the cutting bit and the sheet
Finish cutting through material before stopping your drilling machine,
Make sure the plastic handle is screwed over the cutter (not in use) to allow for a safe grip
WARNING: Using any tool can be dangerous. Always select the right tool for the job. The tool can get hot after use, cutting edges can be very sharp.

Download the Product Leaflet:    Download
Specifications
| | | | |
| --- | --- | --- | --- |
| Product Code | Recommended Cut Speed | Shank Size | Cutting Shapes |
| TC10010 | 3000RPM | 1/4' | Straight/Curve/360° |