OLFA BLADE SKB10B 10 PACK SK10
Olfa® Utility Blades For SK-10
For: Olfa cutter model:  SK-10 
Qty: 10 /Pack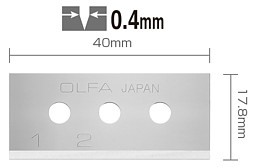 Used with OLFA's concealed blade safety knife, these blades are designed with  safety in mind. The blade has four positions to provide four cutting surfaces  and and blade replacement. The blades cut shrink and stretch wrap, plastic  strapping and more. (SKB-10/10B)
Good For: Use in commercial, industrial, retail and  distribution facilities. Cuts corrugated and packaging materials, shrink wrap,  plastic, film, strapping and more.
 
Made from high-quality carbon tool steel
 
Four-point safety blade
 
This blade is for SK-10 knives
 
Packaged on a carded hanger. 10 spare blades specially designed for the OLFA  stretch wrap cutter  SK-10  in a plastic case.