R-DCA WEDGE ANCHOR 16X65MM X25 PER BOX
Size: 16 mm x 65 mm Wedge Anchor M16 thread.

External diameter: 20 mm.
Qty: 25 | Box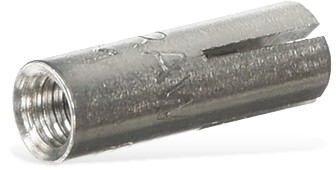 Internally threaded wedge anchor for simple hammer-set installation
Features and benefits
High performance in cracked and non-cracked concrete confirmed by ETA
Product recommended for applications requiring fire resistance
Internally threaded to be used with threaded stud or bolt
Easy to install by hammer action
Slotted sleeve and internal wedge component together facilitate easy setting and expansion
Base material
Cracked concrete C20/25-C50/60
Non-cracked concrete C20/25-C50/60
Unreinforced concrete
Reinforced concrete
Applications
Pipelines systems
Ventilation systems
Sprinkler systems
Cable conduits and wires
Gratings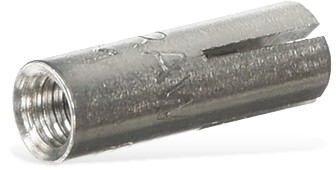 This product's specifications are highlighted in yellow.
Size
Product Code
Anchor
Fixture
Dia
External
diameter
Length
Internal
thread
length
Hole
diameter
d
dnom
L
lg
df
[mm]
[mm]
[mm]
[mm]
[mm]
M6
R-DCA-06-25
6
8
25
11
7
M8
R-DCA-08-30
8
10
30
13
9
M10
R-DCA-10-40
10
12
40
15
12
M12
R-DCA-12-50
12
15
50
20
14
M16
R-DCA-16-65
16
20
65
25
18
M20
R-DCA-20-80
20
25
80
35
22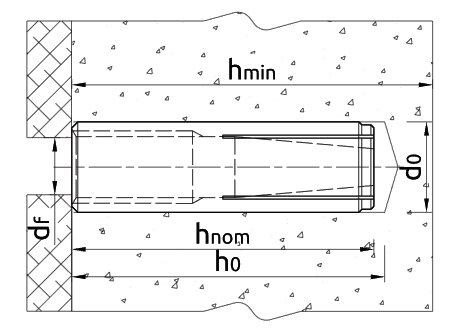 Size
M6
M8
M10
M12
M16
M20
Thread diameter
d
[mm]
6
8
10
12
16
20
Hole diameter in substrate
d0
[mm]
8
10
12
15
20
25
Installation torque
Tinst
[Nm]
4.5
11
22
38
98
130
Min. hole depth in substrate
h0
[mm]
30
32
42
53
70
85
Installation depth
hnom
[mm]
25
30
40
50
65
80
Min. substrate thickness
hmin
[mm]
80
80
80
100
130
160
Min. spacing
smin
[mm]
105
105
220
220
220
225
Min. edge distance
cmin
[mm]
105
105
220
220
220
225
Installation guide
Drill a hole of required diameter and depth
Clear the hole of drilling dust and debris (using blowpump or equivalent method)
Insert wedge anchor, slotted end first
Use the setting tool to drive the internal wedge into the anchor
Insert bolt or stud through fixture and tighten to the recommended torque
Rawlplug's R-DCA Drop-in or Wedge Anchor