ALUMINIUM CASE 45.5 X 33 X 15.2 WITH 5 X DIVIDERS AND FOAM INSERTS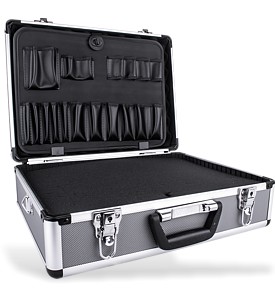 Aluminium case to store fragile valuables.
SIZE: 455mm x 330mm x 152mm
MATERIAL: Aluminium
FOAM: Yes
Application:
Storage for sensitive or fragile valuables. Ideal for delicate laboratory equipment, measuring instruments or camera equipment...

There are 5 partitions/deviders that can be adjusted to your requirements to neatly sort various equipment.
Benefits:
Made from lightweight, but durable aluminium.
Various sizes available in the range.
Two latches keep the lid closed during transport.