PONY PIPE CLAMP 3/4' 25MM BLACK PIPE
Pony ¾-Inch Pony deep-reach pipe clamp fixture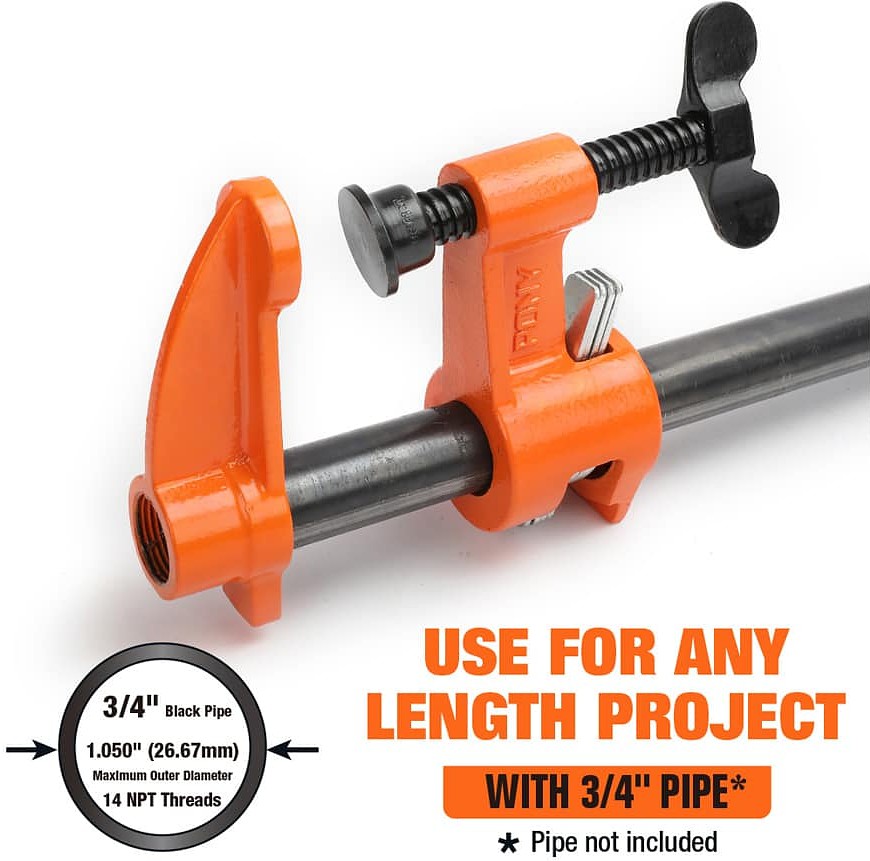 Our deep-reach pipe clamp fixture features a reach of 2 1/2 inches. Reverse the heads to easily turn it into a spreader clamp. Ideal for use in tight quarters. Fits 3/4'-14 NPT Pipe.
The Deep Reach Clamp Fixture for ¾' Black Pipe from Pony Tools features a 2 ½' deep-reach design for use with countertops, cabinets, and other tight-reach applications.
The fixture can be mounted to a ¾' black pipe of any length with threaded ends and the clamp's heads can be reversed to spread the work.
The clamp features a wing-nut handle and four multiple disc clutches. The swivel has a diameter of 1¼' and features internal lock washers made from steel for securing your item in place. This item comes with a steel display carton for displaying your clamps.
Features
Features a special deep-reach head, which allows you to micro-adjust your tightness from the outboard end of your clamp
The design is perfect for tight jobs where traditional pipe clamps may not work
Fixed head can be reversed and clamp can be used as a spreader
Sliding head operates smoothly with the ⅝' adjusting screw for final tightening
Multiple-Disc-Clutch for secure hold along pipe
Coil spring stop
Part No.
Reach
Swivel
Compatibility
#56
2 ½ inch
1 ¼ inch
Pipe with ¾ inch thickness
64 mm
31.8 mm
19.05