JORGENSEN E-Z HOLD 24' 600MM MEDIUM DUTY/SPREA
Jorgensen 24-Inch One-Handed Spreader Clamp [610 mm]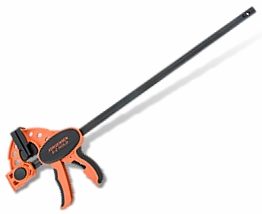 Information:
The first bar clamp to expand by joining two clamps together with no tools or added accessories needed. The patented head design allows any two Jorgensen Bar Clamps to be joined together for greater clamping capacity. By quickly flipping the head, you join two clamps together and also increase total clamping capacity by 6-Inch over the original two clamps.
Example: Two 12-Inch Bar Clamps joined together will give you one clamp with an 30-Inch capacity. With every two clamps you buy, it's like getting a third, larger clamp for free.
Features
24 Inch
Exclusive, patented design
76% more clamping force
Quick release button for fast and easy changeovers
Spreader function
Part No.
Clamp Size
Included
#33424
24 inch
Spreader function
610 mm
76% more Clamping Force
Instructions: How to combine two spreader clamps
Step 1

Remove the head of the clamp by pressing the marked 'Push' button.
Step 2

Flip the the head 180 degrees vertically and attach it to the clamp
Step 3

Do the same with the second clamp, attach the two clamps together using the dovetail on the end of each clamps' head
Step 4
All done! Feel free to watch the video for a more detailed instruction