COOLANT PROOF DIGITAL CALIPER WITH CALIB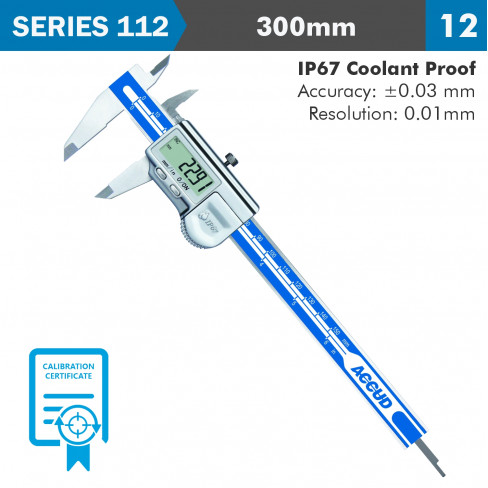 Coolant Proof Digital Caliper 300 mm


SERIES 112-12
Manufacturer Cat No: 112-012-12
Range: 0 mm - 300 mm
Resolution: 0,01 mm or 0.0005 in
Accuracy: ±0,03 mm
IP67 Protection Class Electronic Caliper

Professional quality workshop electronic caliper with measuring range of 0 - 300 mm | 12' (in) and measuring resolution 0,01mm / 0.0005'. IP67 degree of protection - full integrity against dust and oil and protection against the effects of immersion in water. It fully meets the DIN862 standard.
Made of stainless steel.
Includes a Calibration Certificate
from the manufacturer
Features at a glance
Resolution: 0.01mm / 0.0005'
Buttons: on/off, zero, mm/inch
Automatic power on/off
Protection IP67 Standard
Made of stainless steel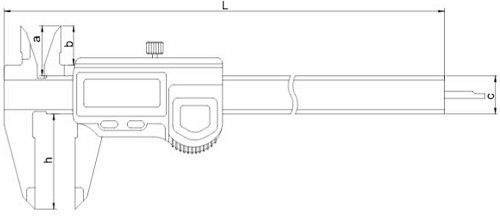 Technical parameters:
Description
Spec
Measurement range:
0 - 300 mm | 0 - 12'
The length of the jaws h:
60 mm
Resolution:
0,01 mm / 0.0005'
Accuracy:
± 0,03 mm
Dimension L:
400 mm
Dimension a:
25 mm
Dimension b:
20,5 mm
Dimension c:
17 mm
Protection Class:
IP67
ABS function
NO
Automatic shutdown:
YES
mm / inch switch:
YES
Off / On button:
YES
Data output:
NO
Lock type:
screw
Body material:
stainless steel
Included:
caliper,
2 batteries,
plastic case.
Includes a Calibration Certificate
from the manufacturer