FLAP SANDING DISC 115MM 60GRIT A/O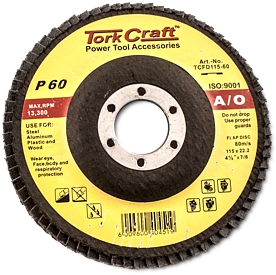 A flap disc is an abrasive tool made to fit onto an angle grinder to grind and finish in one operation.
SIZE: Ø115
GRIT: P60
SURFACE : Flat
Apply light pressure when finishing welds. The flap disc is flexible and will tend to follow the contours of whatever you are grinding.
Wear eye, face, body and respiratory protection.
| | |
| --- | --- |
| Grit | Materials |
| 24-40 | Aluminium, soft non ferrous metals, wood and plastic |
| 36-50 | Unalloyed or low alloyed steels, and low tensile strength stainless steels |
| 60 | High-alloyed, stainless and tempering steels |
| 80 | High-alloyed steels and fine finish on all metals |
| 120 | For extra fine finish on all materials |
To extend the service life on a flap disc, lower the speed to half of the MAX rpm rated on the disc. This could extend the service life almost 100%. This can be accomplished by using a variable speed angle grinder.
| | |
| --- | --- |
| Description | Value |
| Size Ø | 115mm |
| Grit | P60 |
| Bore | 22.23mm |
| Max RPM | 13,300 rpm |
| Bevel | Flat |
What is grit?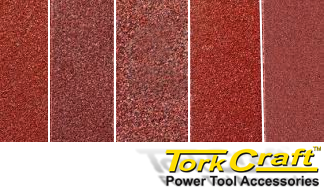 When talking about sandpaper 'grit' is a reference to the number of abrasive particles per inch of sandpaper. The lower the grit the rougher the sandpaper and conversely, the higher the grit number the smoother the sandpaper.

This make sense if you imagine how small the particles on an 1000-grit sandpaper would need to be to fit into a 1' square (25,4mm square). Sandpaper is referred to by the size of its grit (Example 120-grit sandpaper or P120 sandpaper).
Flat or conical disc styles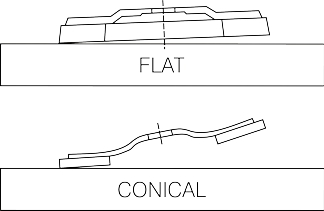 Flat
The flap disc has a flat surface for maximum efficiency when used at 0-15° angles. The flap disc is most suitable for grinding flat surfaces.

Conical
The flap disc has a slight conical surface for grinding at 10-25° angles. The flap disc is most suitable for grinding contoured surfaces.
YouTube Grinder basics: Using a flap disc