HYBRID RESIN 400ML CHEMICAL ANCHOR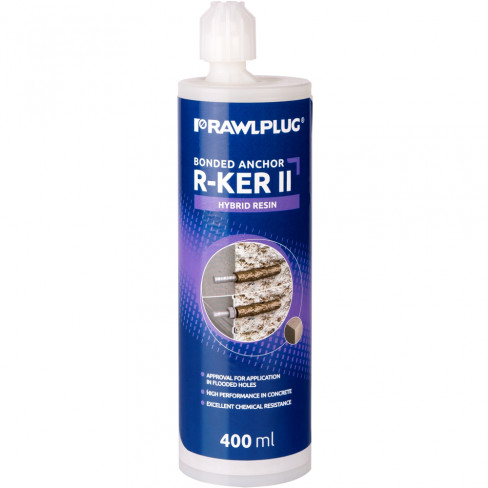 R-KER II Vinylester resin
[Qty: 400 ml]

High performance vinylester resin approved for use in cracked and non-cracked concrete

Features:
Approved for use in cracked and non-cracked concrete
Suitable for use in wide range of temperatures (application from -5oC up to +40oC, exploitation from -40oC up to +120oC
Excellent chemical resistance (durable for alkaline and sulphurous conditions)
Suitable for multiple use. Partly used cartridge can continue to be used after fitting new nozzle
C1 approval for seismic application
Suitable for use in dry and wet substrates as well as holes and substrates covered with water (approved for application in flooded sea water)
New installation procedure (compressed air cleaning)
Electric resistivity
Applications
Pipes/ Installations
Facades - Large Panel Reinforcement System
Balustrading
Barriers
Curtain Walling
Fencing / Gates
Shutters
Conduits
Cable Trays
Seismic strenghtening
Large panel reinforcing system - Copy Eco
Base materials
Approved use in:
Cracked concrete C20/25-C50/60
Non-cracked concrete C20/25-C50/60
Installation guide
Drill hole to the required diameter and depth for stud size being used.
Clean the hole with brush and hand pump at least four times each. It is very important and necessary before installation.
Insert cartridge into gun and attach nozzle.
Dispense to waste until even colour is obtained.
Insert the mixing nozzle to the far end of the hole and inject resin, slowly withdrawing the nozzle as the hole is filled to 2/3 of its depth.
Immediately insert the stud, slowly and with slight twisting motion. Remove any excess resin around the hole before it sets and leave it undisturbed until the curing time elapses.
Attach fixture and tighten the nut to the required torque.
Rawlplug R-KER Vinylester Resin - Rebar Installation